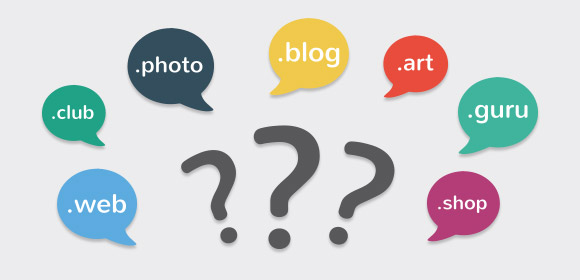 New gTLD Portal FAQs
As more and more new gTLDs become available for registration, the demand for these extensions continues to increase. To help customers get started with the process of searching, registering and managing new gTLDs, we've put together the following FAQ to help you along the way.
What is a new gTLD?
The term "gTLD" stands for "generic Top Level Domain": the series of letters that appear after the dot of a web address such as .com, .net, and .org. A gTLD is sometimes referred to as a domain extension. For example, the gTLD for www.domainpeople.com is ".com". New gTLDs are part of a massive extension of the Internet's name space. Hundreds of new and unique gTLDs are being released for registration to anyone around the world.
Domain names registered under a new gTLD are designed to be more relevant to Internet users, as the new gTLDs will consist of meaningful words that can identify what your website represents even before a user clicks on your link in a search engine's results page.
What is the life cycle of a new gTLD? What is the life cycle of a new gTLD?
TLD Application Approved by ICANN
Sunrise Period
Landrush Period
General Availability
You will be able to purchase domain names directly from our Watchlist as registries begin taking orders for each TLD.
What is the new gTLD Portal?
The new gTLD Portal is an online centralized location where customers can review news related to the release of new gTLDs, track the progress of the various launch cycles related to specific new gTLDs, register and manage domains under under gTLDs in all phases of release – including the ability to pre-register a domain before the new gTLD is released to the public – which will significantly increase your chances of securing the domain registrations that you really want.
I already have a domain, why should I register a new gTLD?
Registering more than one domain name for your business or your general web presence is always a good idea. It protects your brand and also expands your web presence to reflect new products, ideas, services, etc. Registering a new gTLD takes that concept to a new level by creating a dynamic online identity where your domain extensions will reflect the specific business, product, service, hobbies, cultures, interests, communities or cities that you and your brand represent.
Improves the chance of getting the domain you really want if it's taken in the common gTLDs
Prevents your competitors from registering a similar domain name, driving customers to them instead of you
Promotes the various products and services you offer
Increases the traffic to your website
Shows your visitors you're on the cutting edge of Internet expansion
Provides additional marketing and advertising opportunities
Increases listings in search engines
Gives new users more ways to find you when searching the web
Tells new users what your site is about just by reading the domain name
How do I search for and register as new gTLD?
Simply login to our new gTLD Portal using your DomainPeople account credentials, and you'll immediately be presented with a new gTLD search form. Just enter your brand, keyword, or any combination of letters and or numbers with or without an extension, then click the search button to see which new gTLDs are available for that domain.
Why do I have to login to the new gTLD Portal to register and manage my new gTLDs?
The new gTLD portal was developed to enable customers to have one central location where they can learn about specific new gTLDs and track the ones they're interested in before they are released for registration by the registries. The gTLD portal enables us to quickly deploy new gTLDs when they are released and make them available for customers to register through any of the release phases (see below for more details). Once registered, new gTLDs can be used just like any other domain to resolve to a website, use for email addresses or simply reserved for future use. The new gTLD portal has full domain management capabilities, enabling you to make updates to your registration contact info, name server settings, and fully customizable DNS configuration.
What is Pre-registration?
Pre-registration is an exclusive offering that allows interested registrants the ability to submit their domain name order prior to the General Availability period. Pre-registration is a favored way to get domain registrations because it leverages industry-leading technology to register a domain name in the early moments of availability when contention is the highest.
I've submitted Pre-registration order for a domain, does that mean I'll get it?
Using Pre-registration does not guarantee the domain will be registered to you, only that it will be ready and queued up to go for the opening of the General Availability period. If you are not awarded the domain, the registration fee will be refunded.
What is Sunrise?
Sunrise is an initial mandatory period of at least 30 days before domain names are offered to the general public. Trademark owners can take advantage of the initial Sunrise phase to safeguard the domain names which match their trademark. A validated trademark from the Trademark Clearinghouse is required for the initial Sunrise phase. Some TLDs may also choose to launch subsequent Sunrise phases open to members of specific communities or organizations.
What do I need to get a domain into Sunrise?
For the initial Sunrise phase, all registrants must have a validated trademark entry in the Trademark Clearinghouse, plus any additional TLD specific information required by that registry. You will need to submit your validated trademark information along with your Sunrise application. For additional Sunrise periods, registries may require other specific information.
What is the Trademark Clearinghouse?
The Trademark Clearinghouse (TMCH) is the rights protection mechanism built into ICANN's new gTLD program. The Clearinghouse allows brand owners to submit their trademark data into one centralized database, prior to and during the launch of new gTLDs.
To find out more about the Trademark Clearinghouse and get your validated trademark entry, go to: www.trademark-clearinghouse.com
What are the fees associated with a Sunrise registration?
Your entry into Sunrise will typically comprise of several costs:
A Trademark Clearinghouse fee. To find out more about the Trademark Clearinghouse and get your validated trademark entry, go to: www.trademark-clearinghouse.com
A pre-paid Sunrise application fee (non-refundable)
A minimum year registration (refundable)
If you are awarded the domain name, it will be placed into your account. If you are not awarded the domain name, your registration fee will be refunded.
What is Landrush?
Landrush is a period for priority registration of domain names that occurs between Sunrise and General Availability. Landrush is an optional launch phase that may not be supported by all TLDs. Landrush provides consumers with early access to the most sought after domains, typically at a higher price.
What are the fees associated with Landrush registration?
Your entry into Landrush will include a refundable registration fee if you are not awarded the domain, plus any additional fees required by the registry for Landrush.
What is General Availability?
General Availability is the phase of a TLD launch when domain names are publicly available for anyone to register as long as registrants adhere to the requirements established by that particular TLD's registry.