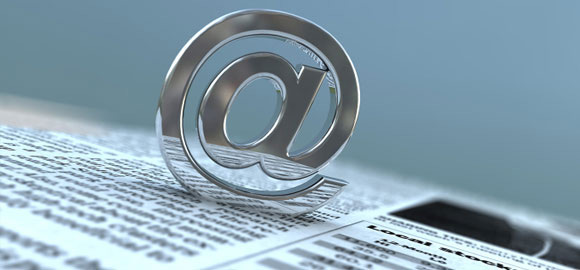 Create and Manage Your Own Email Newsletter Campaign
Your Website should be the best sales tool you have. It's interactive, it has images and information, and it lets customers get to know your brand or, in some cases, even perform transactions with you. Nothing can propel prospects through the sales process as effectively as your Website.
So it makes sense to engage your customers while they're in the same channel as your Website. According to a recent survey conducted for BtoB Magazine, 57% of respondents said email marketing was the online channel that contributed the most qualified leads to their businesses. Clearly email marketing works, but the demands of running a company can make it difficult to find time to create effective digital marketing pieces.
If time constraints have kept you from attempting an email marketing campaign, here are a few tricks you can use to start driving sales through an email newsletter while still investing only 45 minutes per month:
1.

Set Up a Template – Rather than choosing topics from scratch each month, set up a template with allotted spaces for recurring features, for example: How To, Deal/Coupon of the Month, Industry News, Review/Survey of the Month. While the content you include should be new each month, the overall categories can stay consistent.

Tip: You can create a professional template design that reflects your brand using DomainPeople's Newsletter Broadcast application, which is one of the value-added features included in our Cloudhost web hosting packages

2.

Create One (Short) Article from Information You Already Have – Generally speaking, newsletters that are completely self-promotional are doomed to a quick death via unsubscribe. So it's important that you include information that goes beyond your products and services. Depending on your industry, it might make sense to include a short, blog-style feature where you comment on a current event. Or it might make sense to include a how-to article related to your product or service. For example, if you sell software, your customers might appreciate an article on plug-ins people are downloading to make your product do even more. If you sell shoes, you might include a piece on restoring damaged soles or choosing a shoe that goes with everything.

Tip: People love stories. Sharing info that people connect with emotionally – either because it's interesting or helpful – is a great way to build loyalty.

3.

Use Feedback as Content – Do your customers write reviews about your products or services? Pick a good one, and feature it as the Review of the Month. Alternately, you can devote a small section of your newsletter to a monthly survey – you can fill a slot and gather valuable information about your customers at the same time. Post the results of each month's survey on your Website, and link to them in the next month's newsletter.

Tip: Email marketing pieces should be interactive and initiate a dialogue – you can use them to collect information as well as distribute information. Wherever possible, include a link to the most relevant page on your Website, where you can convert the traffic to sales.

4.

Use Other People's Content – A good newsletter connects people with information that's relevant to them. Notice that sentence doesn't say "original" information. It's not OK to rip someone else's article directly from their site (unless you have permission), but one way to repurpose someone else's content is to link to it. Run a monthly Industry News feature that offers links to relevant stories related to your industry.

Tip: Use Google Reader or another news aggregation site to search for articles by keyword.

5.

Keep Up with Your List – Collect email addresses as you gain customers. Include "Email Address" as a field in the information you collect at the time of purchase, and tell customers what they'll get if they subscribe to the newsletter: Coupons, relevant advice, tips and trends. People are more likely to opt in if they have something to gain financially or emotionally from your newsletter.

Tip: DomainPeople's Newsletter Broadcast application can store your email lists, too!
Newsletter Broadcast is an Email Marketing Tool included with any of our web hosting packages that helps you quickly and easily create and deploy email marketing campaigns and track and receive reports on click-throughs, open rates and unsubscribes. The standard tool enables you to manage email lists of up to 100, or you can upgrade to the premium version to manage unlimited email lists for $9.95 a month.
This is one of the many value-added features that come with DomainPeople's Cloudhost Sites. Learn more about our 30-day free trial and upgrade today!
Learn more about Cloudhost Sites for small business web hosting.