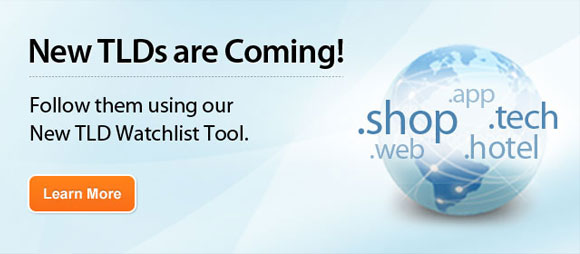 New Generic Top Level Domains (gTLDs)
Are On The Way
New gTLDs, or domain extensions, will become available for registration later this year. ICANN, the organization responsible for maintaining the global Domain Name System (DNS), is currently processing nearly 2,000 applications for new gTLDs. Many of these new gTLDs will be restricted for private use but there will be more than 600 of these available to the general public for registration and use on the Internet, similar to how .com domains are currently registered and used online.
A large number of these new gTLDs will represent specific niches that will appeal to various markets, giving these domains an inherent value not available with the more generic .com, .net, and .org domains. The hundreds of new gTLDs can be grouped into various categories based on their specific meaning and market appeal:
| | | |
| --- | --- | --- |
| Shopping | Business | Entertainment |
| .AUTO | .CAREER | .ART |
| .BUY | .CEO | .BOOK |
| .COUPONS | .CORP | .MOVIE |
| .DEALS | .INC | .MUSIC |
| .SALE | .LLC | .NEWS |
| .SHOP | .LTD | .PHOTO |
| .WEB | .VENTURES | .SHOW |
To help you understand the potential value a new gTLD could bring to your online presence, we've created a free new gTLD WatchList service that you can use to customize your own list of new gTLDs. This service provides the following benefits:
Receive instant updates on the progress of your WatchList items (release dates, pricing, etc.)
Place registration orders right from your WatchList
Participate in pre-launch phases like Sunrise and Landrush
Submit Items to your WatchList FREE with no commitment
What are you waiting for? Get your Free New gTLD WatchList started today!